Archives:
Organization:
Presenting: Images of America Chelmsford Revisited
When: Sunday, March 30th, from 2:00 until 3:30 p.m.
Where: Barrett-Byam Homestead
About the Author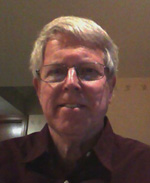 Frederic S. Merriam, 68, is not native to Chelmsford. As an employee of Raytheon Company, he moved to Chelmsford in 1971, to raise a family in a town that came highly recommended as a community and for its school system. His interest in local history started after reading numerous historical newspaper features written by Eleanor Parkhurst and her cousin George Parkhurst.

A 1967 graduate of Rensselaer Polytechnic Institute in Troy, NY, Merriam completed a 41 year career in electrical engineering. Having a life-long interest in photography, he was naturally attracted to the vintage image collection in the care of the Chelmsford Historical Society, and is pleased to have the opportunity to compile and research this book for public enjoyment.

Merriam has been an appointed member of the Chelmsford Historical Commission since 2003, is a board member of the Chelmsford Historical Society, and manages websites for both organizations. He published the book History of Chelmsford 1910 to 1970 for the Historical Commission in 2011 and compiled the History of the Chelmsford Fire Department on the Town's website in 2013 at the request of the Fire Department.

When not doing historical research, Merriam does photographic projects for the Town of Chelmsford and finds time to relax in York Beach, Maine.

He hopes that this work will bring pleasure to its readers and recognition to the hard working (and fun-loving) volunteers at the Chelmsford Historical Society. It is a gift in return for the published words of those who came before.
---
See photo albums of prior events on photo sharing site SmugMug.
---


Barrett-Byam Homestead
Home of the Chelmsford
Historical Society


The Old Mill Stream
Location of the first
saw mill in town


Smoke Chamber



Country Store