by George Adams Parkhurst
The players would rotate positions every time an "out" was made, going from fielder to pitcher, to catcher and finally to batter. The field in what is now Bartlett Park, or the field since taken over by the Mill Dam office building, were popular sites for the games. Of course, we didn't enhance our popularity if we played, and tramped down the grass, just before the hay was scheduled to be mowed. But everything has its drawbacks!
Twilight league baseball attracted a large follow­ing. Nights of the games, we'd have an early supper then the whole family would drive to the ball field behind the high school at 50 Billerica Road. The grassy slope between the school and the playing field served as an adequate grandstand.
I particularly remember the seasons that Ray Hazeltine managed the team that was composed of such regulars as George Demarais and "Stilly" Kneeland, pitchers; Grant MacElroy or "Sweeney" Greenwood be­hind the plate; Walter Belleville, with his constant chat­ter, at first; Fred Greenwood, I believe, at second; Lenny MacElroy at third; a fellow by the name of Cox in left field and sometimes Billy Berg also in the outfield. I guess I can be forgiven if I don't recall the others after 65 years.
Probably Lenny MacElroy is the only one of these still living in town.There were no hot dog nor beer vendors but Rupert Seeton was always on hand, strolling through the crowd, with his metal pail filled with bottles of "Chelmsford" carbonated beverages on ice.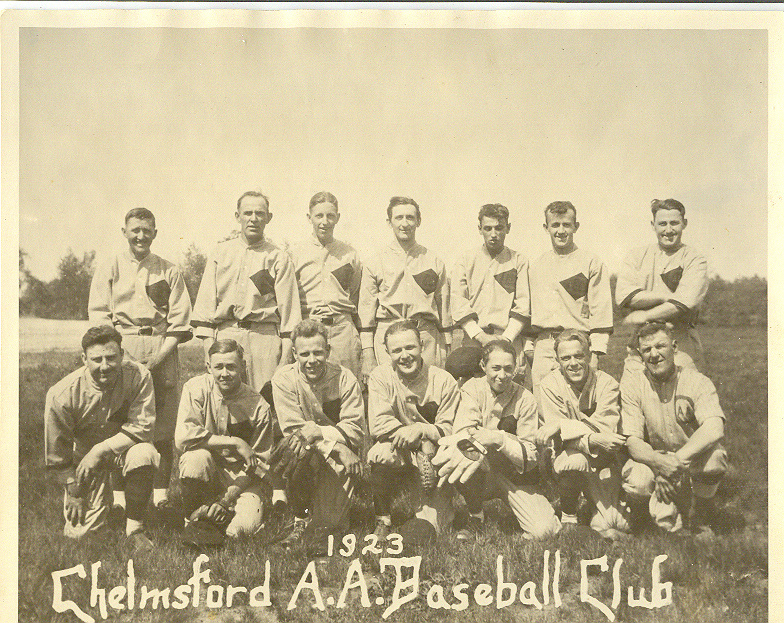 The players as we know them. If you can help fill in some of the names, please let us know!
Front, left-to right:
1. Grant MacElroy; 2. __________; 3. Fred Greenwood; 4. Jim Whittaker; 5. Stilly Kneeland; 6. Percy Greenwood; 7. Ed Zollinger
Back, left-to right:
1. ______________; 2. ______________; 3. ______________; 4. ______________; 5. ______________;
6. ______________; 7. ______________